---
Can I change my postal address for an order?
After an order/pre order is placed you must contact us in writing for any change of details, be it name or address. Altering your default address in your account will not change orders that already exist in our systems.

To update any orders still pending please email us (with the order number/s and both the current and new addresses, as we need to verify) at [email protected]
Changing details within your web account only updates any future orders and will not alter any orders already in the system.
International Customers please note: If you pay with Paypal we are unable to alter addresses on orders once it's placed due to the terms and conditions of Paypal.
---
Can I use my American Express / Dineers Club card to purchase from Popcultcha?
Unfortunantly we cannot accept payments made by American Express/Diners club at this time.
---
Can I contact Popcultcha via Telephone?
You can either contact our physical shop in Geelong or contact our online specialists directly by using the below phone numbers

Website: 1300 586 291
International Diallers: +61 3 5240 7988
Geelong Supastore: 1300 586 293
Geelong Collector Gallery: 1300 586 292
---
How do I calculate International Shipping charges?
With our shipping outside of Australia, the easiest way to calculate this is by adding all your item(s) into your cart. Once this has been done, simply view your cart, then you will be able to select your shipping location and then once it refreshes, the shipping method, eg, Pack n Track or ECI Express.
Once you have selected both the shipping costs will become available to you. As shipping requires both location and weight of items the above is the easiest option as the website has all the info.
---
How can I get a specific Pop! Vinyl made?
As awesome as Popcultcha is we actually do not manufacture Pop! Vinyl Figures.
They are designed and manufactured from those extremely talented folks from Funko and as much as they'd love to make one for every character out there in Film/TV or Music land it is of course dependant on the ownership rights of said characters.
http://funko.com/
Keep an eye on their website for new releases that get announced.
---
Help! I can't find what I am looking for!
Here at Popcultcha we update our store regularly but we are not perfect! There may be an error on the website or you may have difficulty in finding a particular product which you know we have in our range. Similarly, you may be looking for that special something and were wondering if we can source it through our suppliers. In any event, please send us an email at [email protected] detailing exactly what you are looking for and we will get back to you as soon as possible to point you in the right direction or to let you know whether we have the item in stock.
---
What is a Chase Piece!?
Funko (and other manufacturers) from time to time will produce a Chase Variant piece with a release of certain Pop Vinyls or other products that they produce. This Chase item is a rare variation piece on the original design and can be a different in a very slight to moderate way. Please see an example below: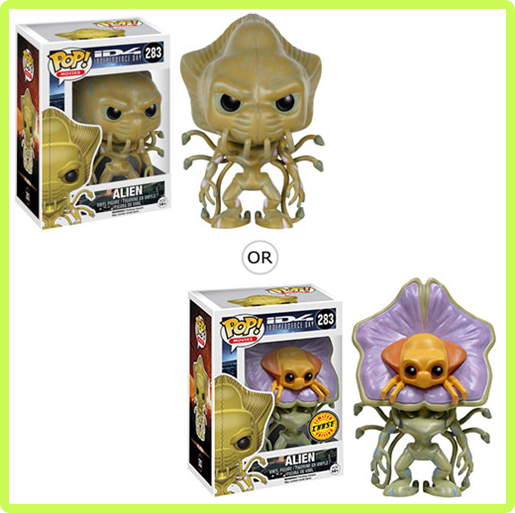 These pieces are randomly inserted into the boxes that we receive from Funko and we can never know when we will come across them or what ratio they come in.
Things to note with these Chase Pops:
We are unable to guarantee a Chase Piece to any customer (Unless stated in the listing). This includes orders of multiples, boxes or cases of the same product.
All Chase Pieces are given to the next order in line as they arrive within the packing area. We do not favour any location or customer.
All Chase Variant Pieces are still part of the actual products release from Funko and if you do receive one this is still the product that was listed online, simply the Variant Version. They will also still be within the same Funko Box and with the same barcode.
If you do not wish to keep this Chase Variant, you are welcome to return it and swap it over for regular one (this will however be at your own expense). Please be aware though that these items are usually quite rare and highly sought after items, and are usually a higher valued item, so we'd be surprised if you'd want to do this.
If you do not wish to receive any Chase Variants for any releases and only wish to receive the regular versions please email us and we can make a note of this on your account.
---
What is a Preorder ETA?
What the hell is a Pre-Order ETA? Well.... A pre-order product is one which has either yet to be released to the public (ie. Is still being manufactured and transported to the Popcultcha Warehouse) or is simply a product that was in stock but has now temporarily sold out and we are awaiting it to arrive back into stock.
It follows then that a Pre-Order ETA (Estimated Time of Arrival) is the time at which we expect a pre-order product to arrive into our Popcultcha Warehouse. Now, this Pre-Order ETA is either supplied to us by the manufacturer of the product or is amended as and when we receive updated shipping advice. Being a retailer in the Collectables industry, quite often these ETA's can be delayed... sometimes significantly. Please know that most often this is beyond our control and is simply the nature of the collectables industry.
As soon as we get information about when a product is about to ship or that it has in fact been delayed, we will update the Pre-Order ETA on our website for that particular product.
The ETA of any pre-order item can be found by checking that items "product page" on our site:
We do understand that changes in Estimated Arrival Dates can be frustrating, however as the manufacture, shipping and delivery to us of the merchandise you are waiting for is not in the hands of Popcultcha to control, we are at the mercy of the manufacturer to get the items we have ordered for you, to us as soon as they are able. In the event that a pre-order item is delayed, the Conditions of Sale still apply.
So we thank you in advance for your patience and can only advise you to keep checking back on our website at your pre-order products.
Please contact one of our friendly staff members if you have any further questions.
---
Why can I not get a shipping quote?
Sometimes an error occurs with our shipping calculator and you cannot get a quote for your order.
This error sometimes occurs when an item or combination of items causes a glitch with the calculator. A quick fix can sometimes be that you take the items out of your cart and then put them back in again, and most times it fixes the issue.
If the above did not work, empty your cart and then add your items into the cart one at a time, each time looking to see if shipping is still shown. If you get to the one that causes the shipping to disappear this should give you the culprit, then let us know which product (and code) it is via email or phone and we can look into it and try to get it fixed asap.
P - 1300 586 291
---
What size T-Shirt should I buy?
Please refer to the below charts for a rough estimate for T-Shirt sizes. Please be aware that sizing may vary across manufacturers and styles.