---
2021 Festival of Fun Convention Exclusives
Our Release of Funko 2021 Festival of Fun Convention Exclusive products is fast approaching, with the online release scheduled for Saturday 4th December 2021, at 1:00am AEDT. Please read the following guide carefully to ensure you are up to speed on the release, so you can avoid running into issues on the day.
The below 16 items will be available for sale during the product launch on Saturday 4th December. Please note that there are differing shipping restrictions between Popcultcha Exclusive items and the rest of the 2021 Festival of Fun lineup.
Please be aware that these items were originally planned to be released as part of New York Comic Con in October. Due to major delays caused by the global shipping crisis these did not make it to the territories around the world in time for the NYCC event and as such were replanned as part of the Festival of Fun event by Funko.
As these had already been produced at the factories prior to the change these items will be stickered with either 2021 Fall Convention or Funko Shop stickers depending on the item. Please be assured this stickering is correct and they are the official lines launching as part of Festival of Fun.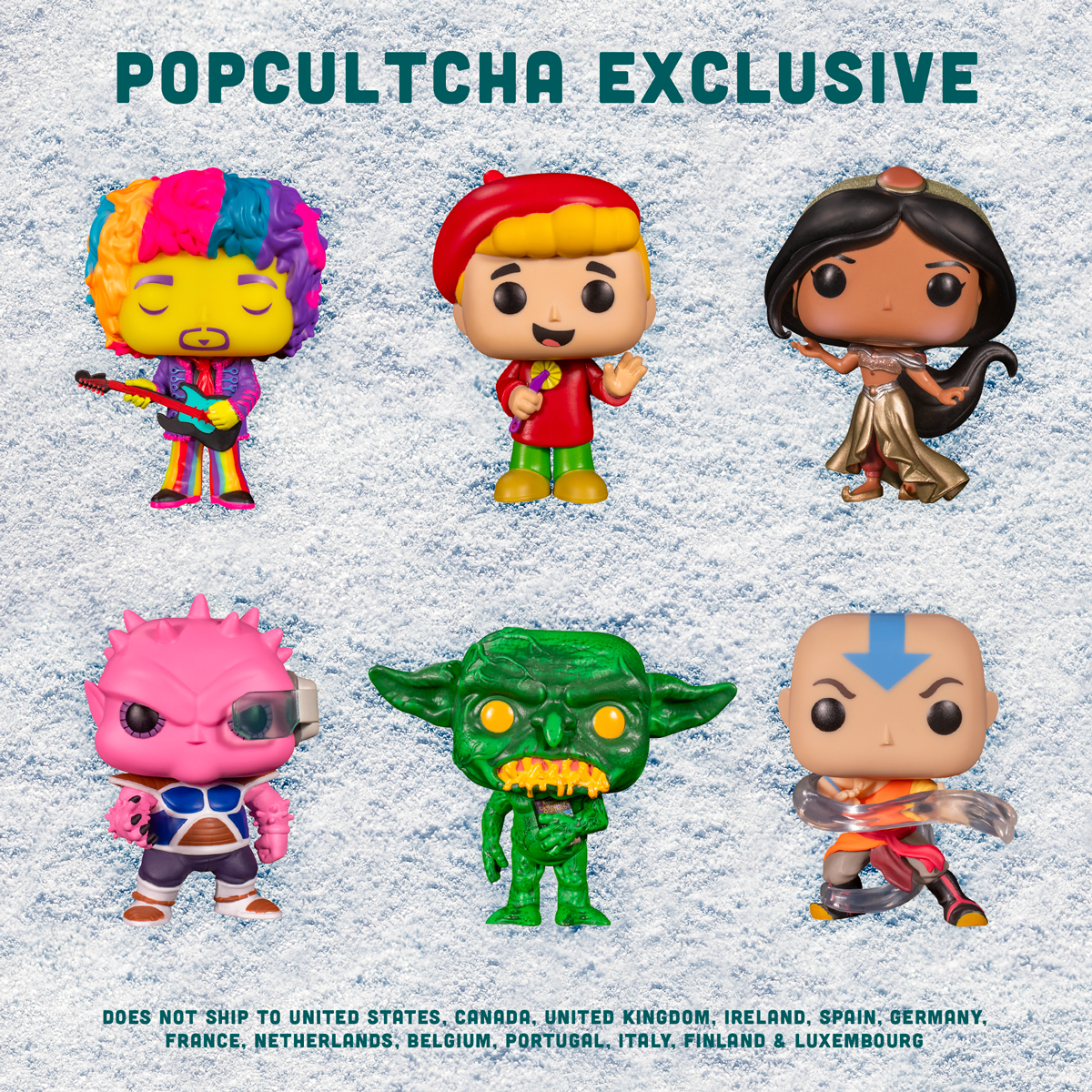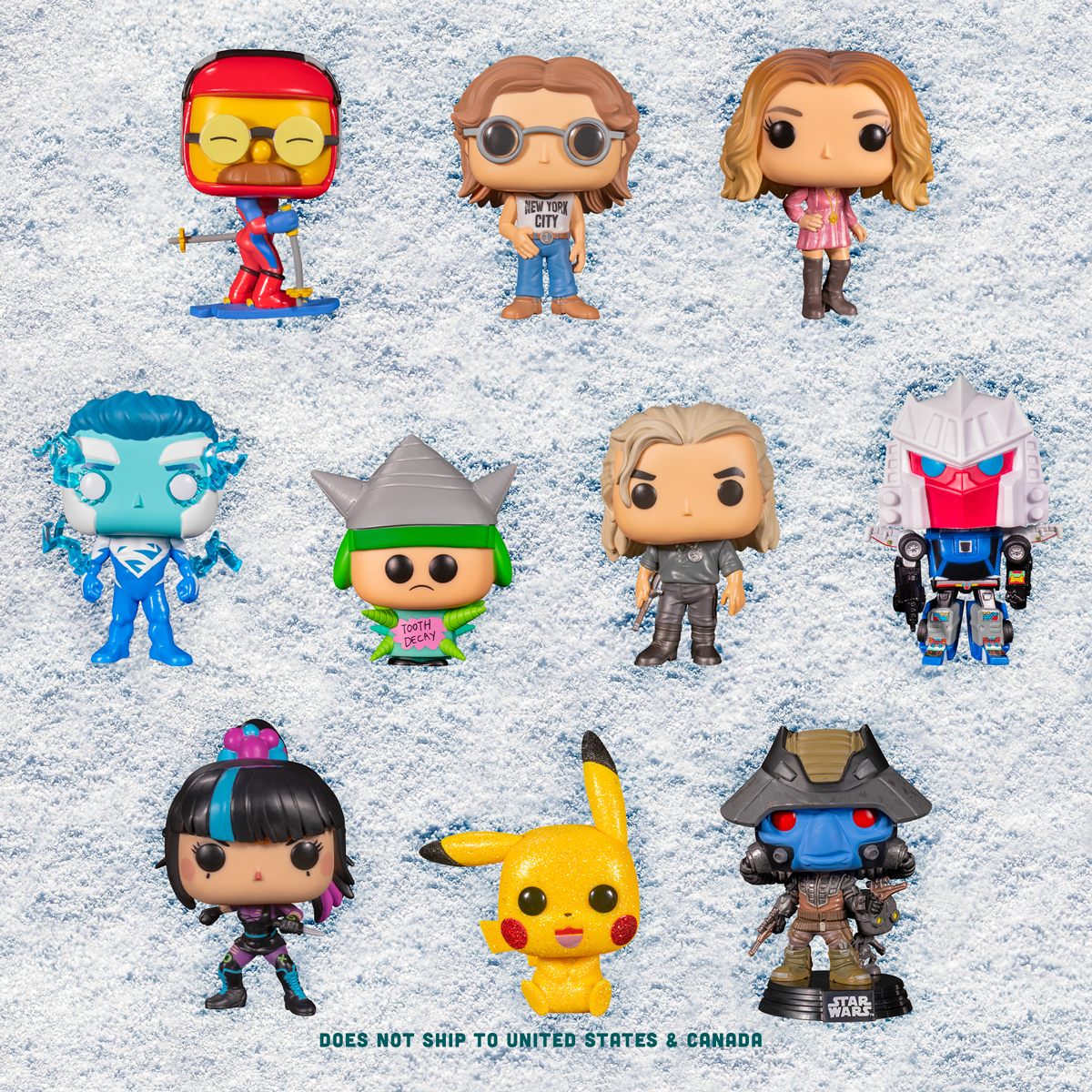 ---
Release Time
Funko's line-up of 2021 Festival of Fun Convention Exclusive products will release at 1:00 am Australian Eastern Daylight Time (AEDT) on Saturday 4th December 2021 online at Popcultcha.com. The online release is occuring outside of regular business hours to be in line with the international release schedule of these exclusive products.

Items will release in store at our Popcultcha Flagship Store in Geelong, and our Popcultcha Collector Gallery in North Geelong at 9:00am Saturday 4th December.
Please be aware this time may be subject to change as decided by our supplier.
---
Queue
As usual we will have our Queue in place to ensure the smoothest possible checkout experience for all collectors. From 11:00pm Friday 3rd December (2 hours before launch) the website will be placed into maintenance mode as we prepare for the event. At this time, the 'pre-queue' will kick in. All customers who enter the pre-queue from 11:00pm - 12:59am AEDT will receive a random place in line once the event starts at 1:00am AEDT. As such there is absolutely no need to arrive at Popcultcha.com prior to a few minutes before the release.
While the advertised release time for 2021 Festival of Fun Exclusive items is when the queue for the event will officially begin, those who arrive at Popcultcha.com at 1:00am AEDT or later will be placed at the back of the queue. Be sure to hop on a few minutes before 1:00am to give yourself the best possible place in line. Whether you arrive at Popcultcha.com at 11pm or at 12:59am your place in line will be randomised, so arriving hours early will not give you an advantage over other customers.
Once the release event has started and the website re-opens, waiting customers will be placed into our queuing system which will allow people onto the website gradually instead of all at once. Once the event has started you will be redirected to the live queue page. While on this queue page you will be notified of your wait time to access the site. The Popcultcha team will post messages that are visible to all those in the queue advising of any current website issues or products that have sold out.
Once it is your turn to enter the website, you will have a limited amount of time to enter Popcultcha.com before your place in the queue will expire. If you are inactive in the queue during this time, you may miss your window of opportunity. Please be aware of the email notification option if you plan to be away from your browser. Popcultcha are unable to assist if your access to the website expires prior to your entry.
Why a Queue?
Due to significant increase website traffic during these events, we cannot always guarantee website stability issues will not arise. After years of trial and error during exclusive product drops, we have found that the queue sytem is the best tool available to ensure a stable shopping experience for all of our customers. We have tested our queueing system on the last dozen exclusive releases and it worked extremely well and managed to cut issues down dramatically.
In the event that there are still website issues we want to ensure you that we will be working as hard and fast as possible to return the site to full working capacity.
---
Restricted Shipping
At this stage all Funko Convention Exclusives are initially restricted items. Convention items that are exclusive to Popcultcha can not be sent to United States, Canada, United Kingdom, Ireland, Spain, Germany, France, Netherlands, Belgium, Portugal, Italy, Finland and Luxembourg. All other Convention exclusive items can not be sent to United States and Canada only.
To confirm the Restricted Shipping status of a product and to check if we can ship it to your Country, look for the listed countries in the More Information / Specifications tab on a product page. If there is no Restricted Shipping line then we are able to ship this product worldwide.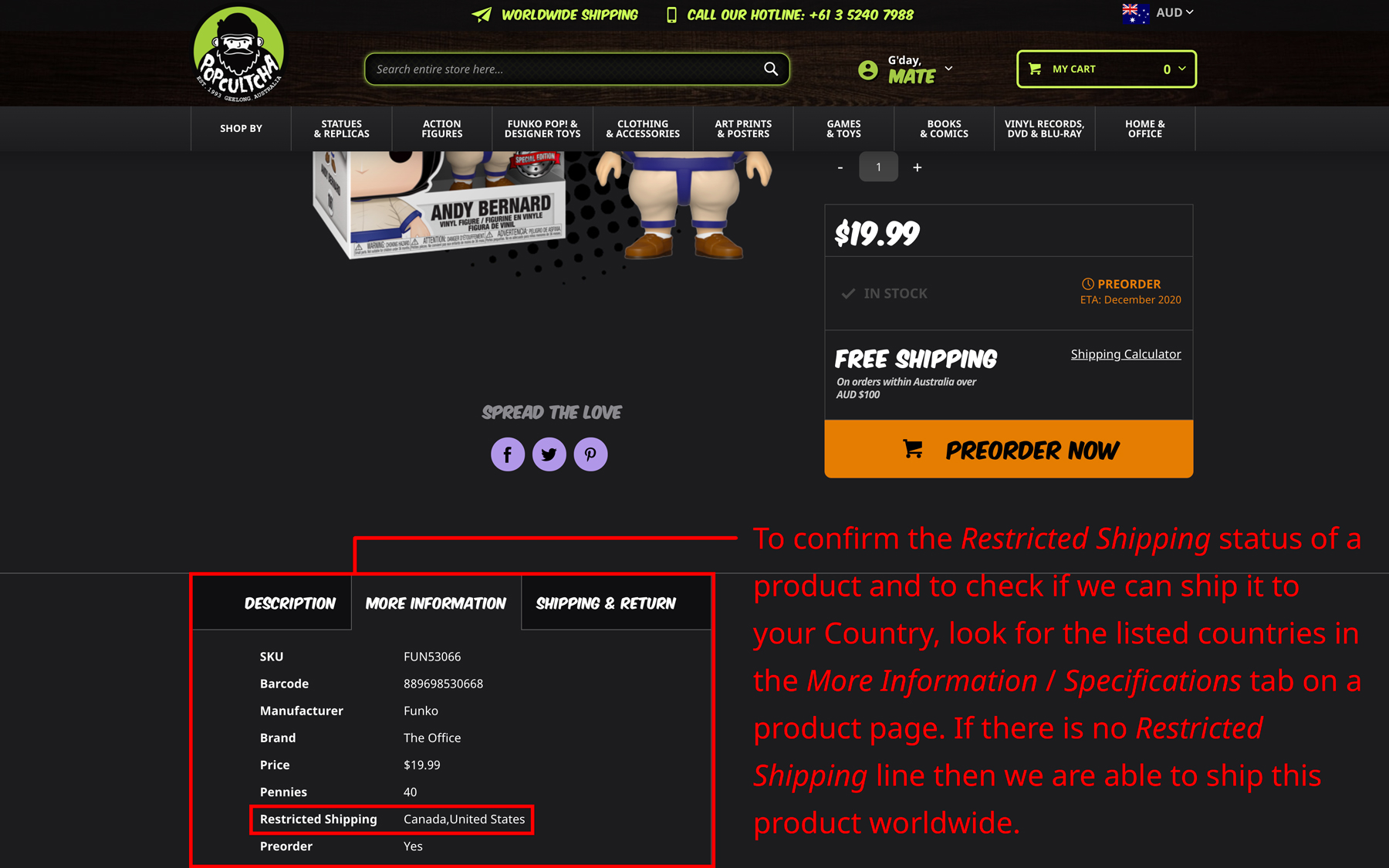 ---
Product Availability
All Funko Convention Exclusive items are subject to per-person limits unless indicated otherwise.
Stock of Funko Convention Exclusive products are highly limited so to best ensure you don't miss out we recommend that you pick the products you would most like to add to your collection and checkout with them immediately. Please be aware that ADDING AN ITEM TO YOUR CART DOES NOT RESERVE THIS ITEM and as such your order is NOT GUARANTEED until you have completed the checkout process. If someone manages to check-out before you, you may miss out on your desired item.
The demand for these Funko Convention Exclusive products is much higher than the quantity that are made available for sale. As such, Popcultcha are unable to assist you if something sells from your cart before you are able to check out, and will not be held responsible in the event this takes place.
Orders for Funko Convention Exclusive items cannot be taken over the phone.
Please note that the time chosen to start the event is not to benefit any customers or customers location. The release time is given to us by our suppliers and we cannot release Funko Convention Exclusive products prior to the advertised time. These events may start outside of our standard business hours in order to be in line with the product launch times provided to us by our suppliers.
---
Shipping Times
Due to the ongoing backlog with Australia Post, and the extra processing time required to ship items following a Convention Exclusive release, unfortunately we can not guarantee these items will arrive to you by Christmas. Please keep this in mind when placing an order for 2021 Festival of Fun Exclusives.
Due to the amount of orders that will be made during these Funko Convention Exclusive events, our order dispatch times will be longer than the usual 24-48 hour timeframe that we aim for. We will be reallocating resources to ensure that all orders are dispatched as quickly as possible, however please be aware that in purchasing these Convention Exclusive items, you are confirming that you are aware that it may take up to 10-12 business days for your order to be dispatched once stock has arrived in our warehouse. We do appreciate your patience during these peak times, and ask that you please refrain from contacting us about this delay in the meantime as this will delay us further.
---
Cart Errors
If in the event that you proceed through the checkout, and come to a website error, or black page, please DO NOT REFRESH your page.
Instead, please check your payment account (Credit card or PayPal) to see if you have been charged for your order. If there is a Payment taken, this means your order is in the process of downloading into our system. There will be no need to refresh the page or place the order again, as it will only duplicate your order, and take payment from you a second time. We cannot guarantee that duplicated orders will be fulfilled - so it is very important to ensure that you do not refresh or re-submit your order multiple times, to try to prevent this from occurring.
Order confirmation emails may take longer than usual to be sent our due to the increase of orders made during peak times. This delay should be short, however we have seen it take up to a few hours.
If you attempt to check out, and one (or more) of the items in your cart is no longer available, due to other customers already placing their order for that same item, you will need to remove that product from your cart before you can proceed.
---
Order Cancellations & Mergers
Order cancellations will be treated as normal but may not be processed until the after the peak period of the event due to the sheer volume of incoming orders. All orders, and any cancellations, are subject to the Conditions of Sale, which you can read here.
Shipping costs for multiple orders will not be cancelled or merged.
During this busy time we will not be able to add product(s) to your existing orders because of the sheer amount of orders being processed in the warehouse. If you wish to purchase additional items, you will be required to make an entirely new order.
Please be aware that any customer found purposely creating multiple accounts/orders to get around the "per person" limits will have all duplicated orders cancelled and refunded. If this is done to extreme excess we reserve the right to cancel all orders placed. The cancellation and refunds can take up to two weeks to be finalised so your funds will also be tied up until finalised.
To be fair to all collectors out there trying to get their hands on these limited products, please make sure you follow the rules set up. Breaking the outlines rules of the event not only spoils the experience for all collectors, but adds unnecessary work for our team and simply slows down the process of getting you your items.
---
Damages
All Funko Convention Exclusives will be sent out the way that Popcultcha have received this stock from Funko. We will not be held liable, nor is there any recourse if the item you receive has a different sticker than that pictured or is un-stickered. All Funko Convention Exclusives products regardless of whether they have a sticker will be treated as an exclusive item.
If your item arrives with damaged packaging due to postal services, we cannot guarantee that we will have a replacement box. It is at Popcultcha's discretion on how to proceed with any exchanges, returns or refunds. Click here to see Popcultcha's Funko Pop! Vinyl Damages Policy.
---
Please Update Your Default Address
As you may or may not be aware, Popcultcha.com has recently undergone some changes and we have migrated all our customer and order data to a new website platform.
Since this migration we have found that some customers are running into errors in the checkout in which they are unable to complete their purchase. Generally, when these customers update / reenter their Default Billing Address, and Default Shipping Address their checkout issues have been solved. As such, we are requesting all Popcultcha customers who are planning on shopping with us during the Funko 2021 Fall Convention Release please action the following if you have not already done so -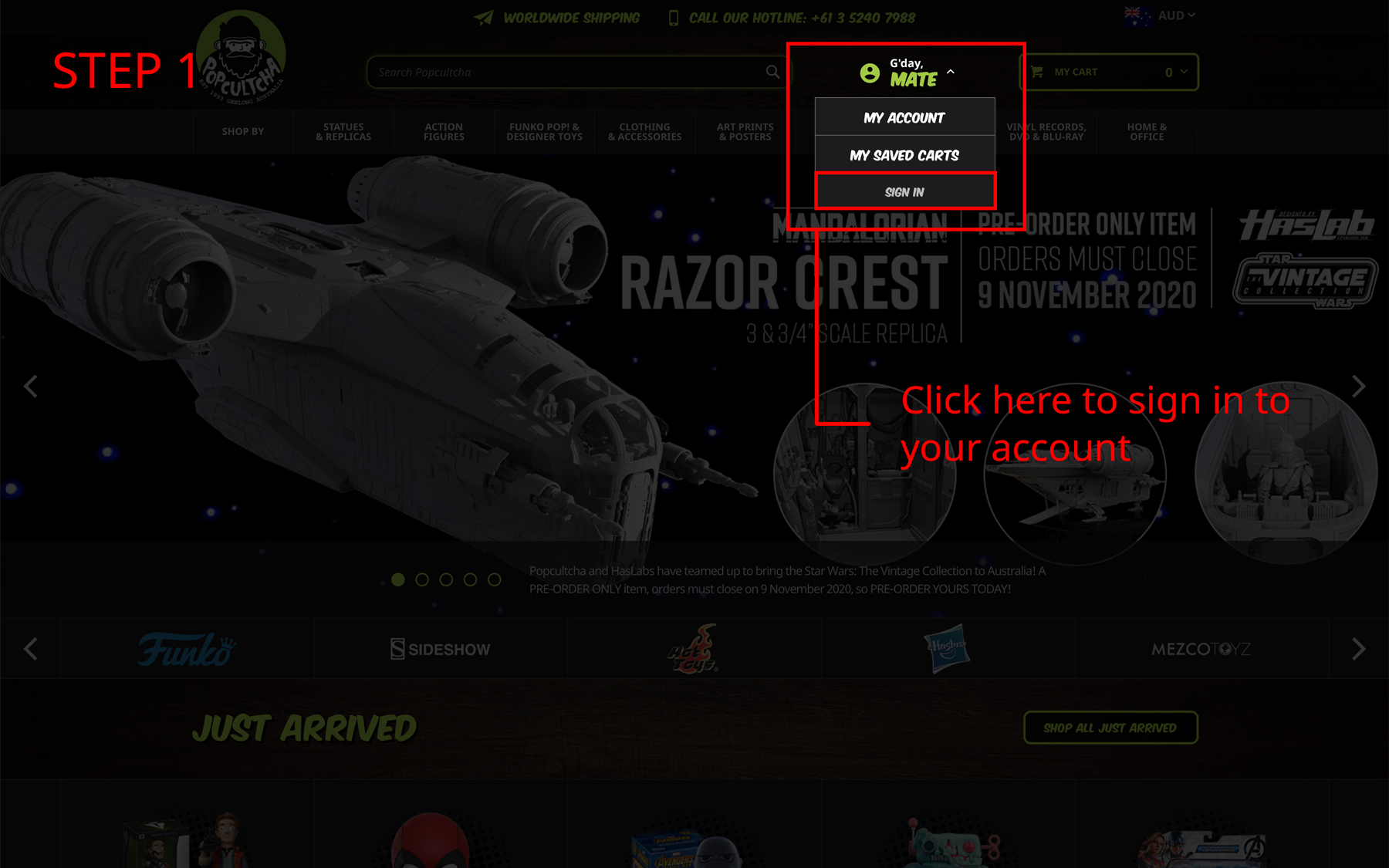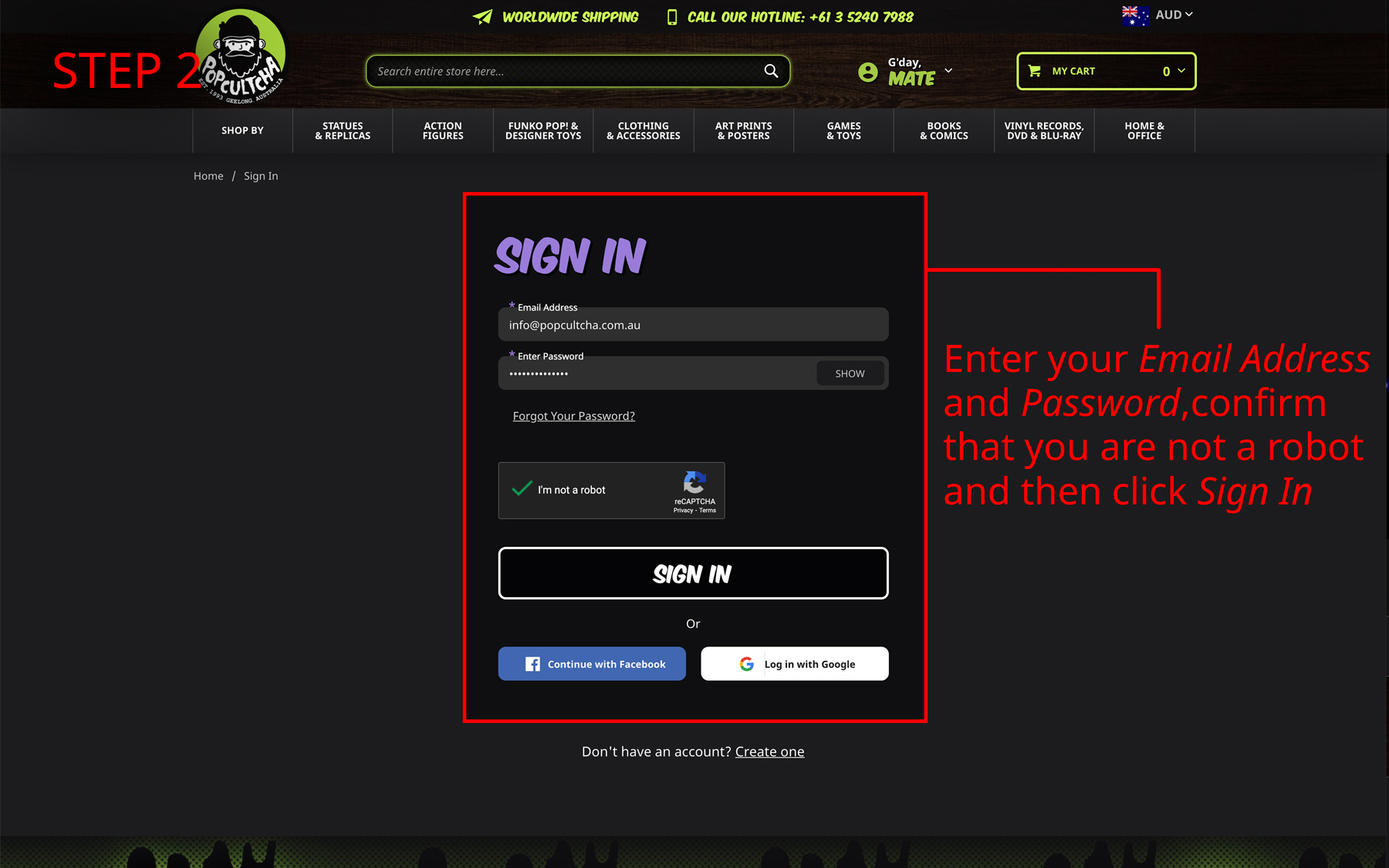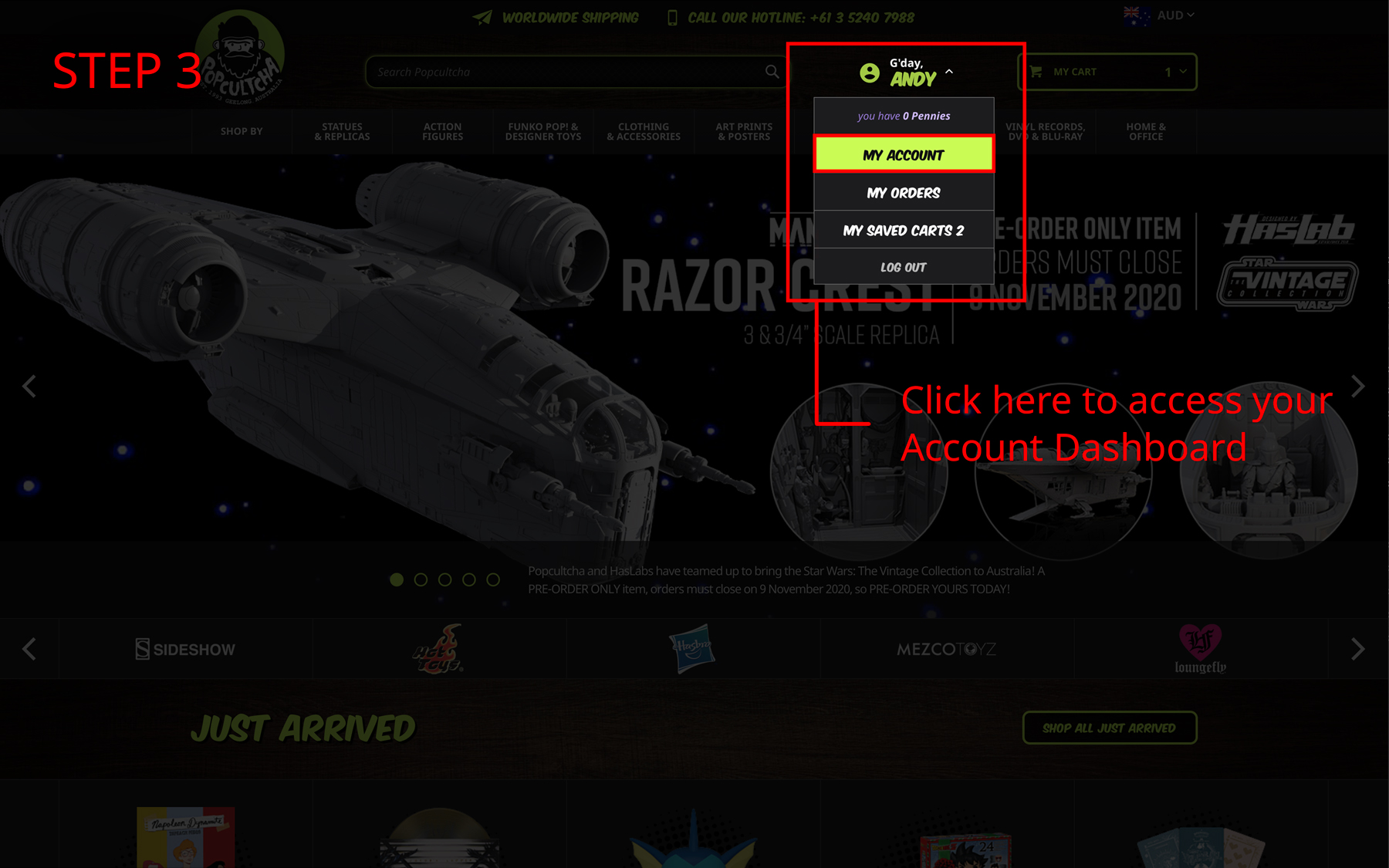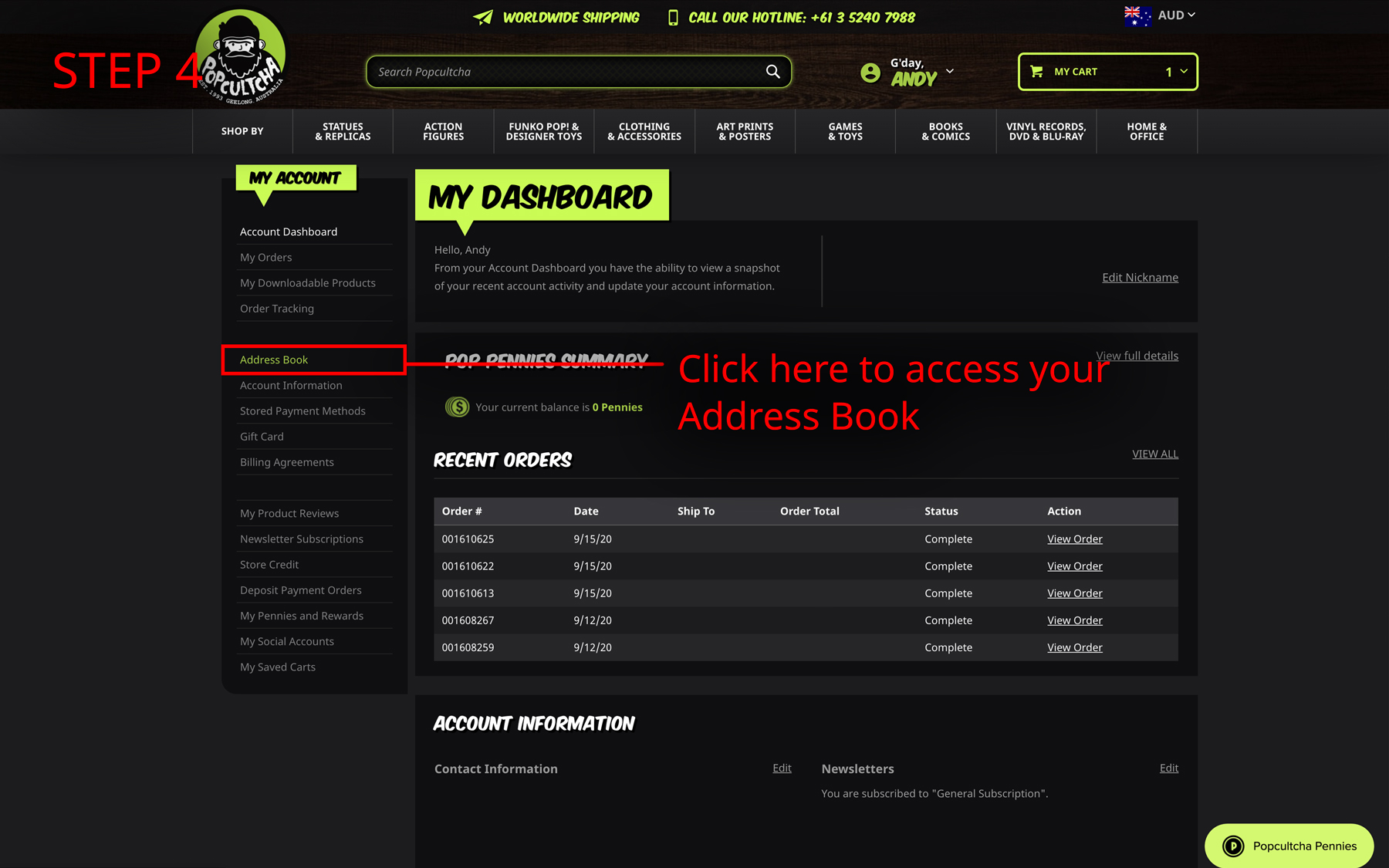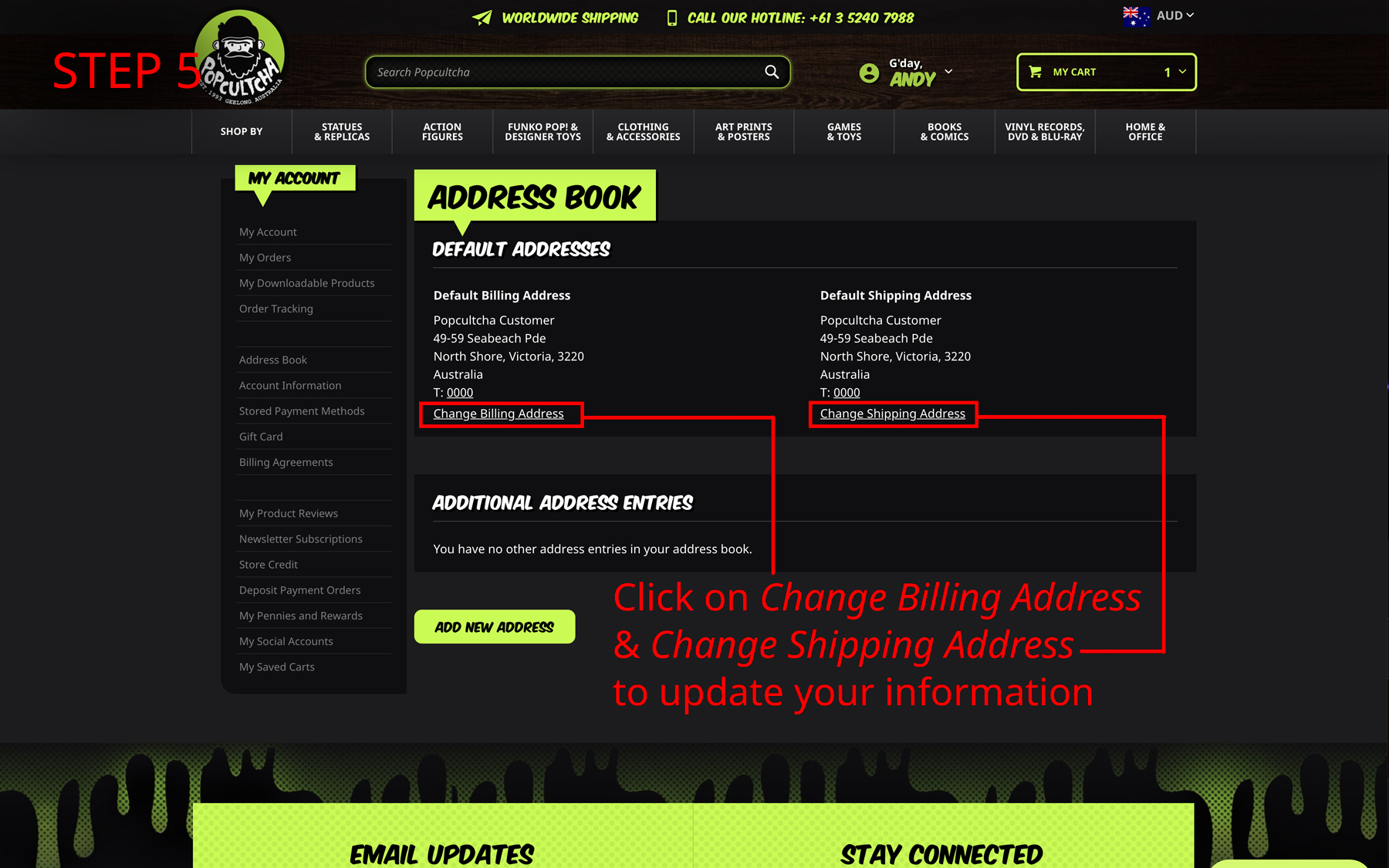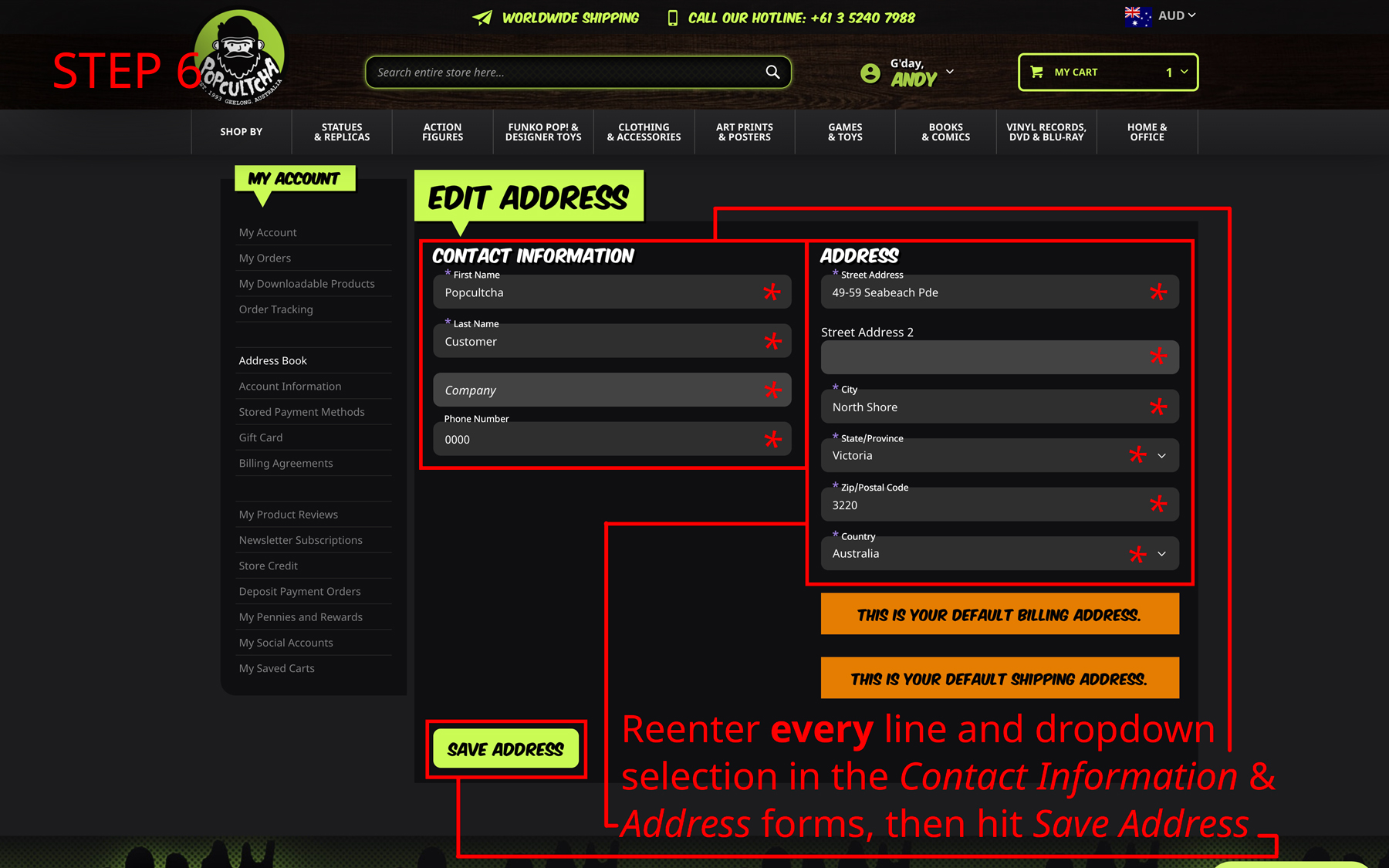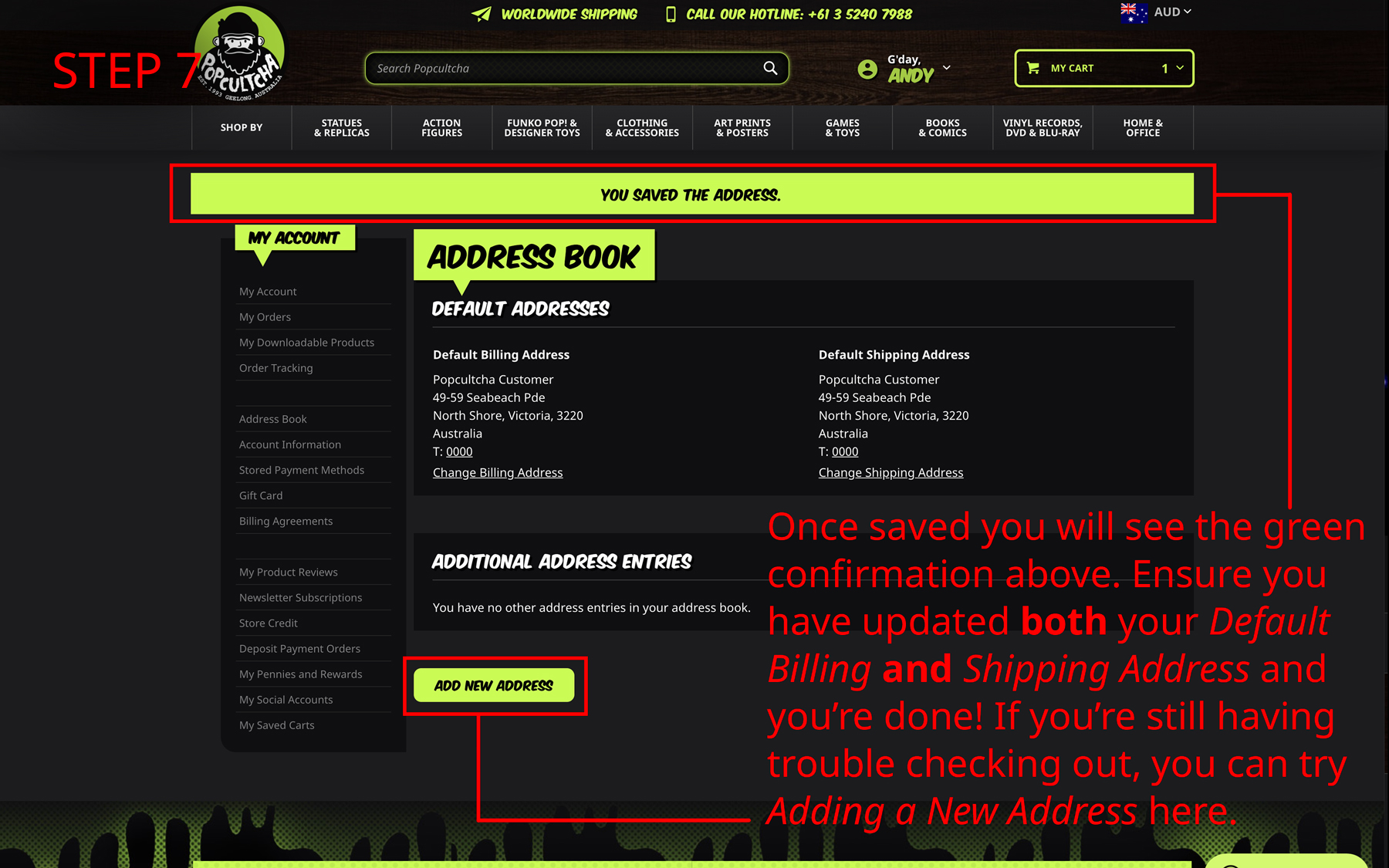 ---
A Couple More Things...
Regardless of any frustrations (and no doubt there will be!) please don't abuse the Popcultcha staff should you miss out on any products or if anything goes wrong during the event. We are very fortunate that Funko have allowed us access to these Funko Convention Exclusive products and it is not the fault of our staff if people miss out on items or if the website crashes due to unprecedented demand.
Finally, Popcultcha will not be able to answer all Funko Convention Exclusives enquiries due to the sheer number we are likely to receive. If the question has been addressed via the FAQ there is high chance that we will not be able to respond. We will be using all of our man-power to ensure the event runs smoothly and to ensure that the orders submitted to us can be shipped as promptly as possible. We appreciate your patience to allow us to work as hard as we can to get these products to you as quickly as we physically can.